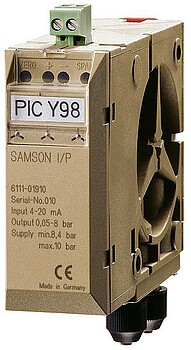 6111
USAGE

Electric to pneumatic signal
INPUT SIGNAL

OUTPUT SIGNAL

EXPLOSION PROTECTION

Without certification
Type of protection "Intrinsic safety"
HOUSING STYLE

Special features
i/p converter
Easy replacement of i/p module
Zero reset at specific mA value when switch-off electronics are activated
Operation possible without an upstream pressure regulator
Plastic housing
Options
Electric connection with angle connector according to DIN EN 175301-803 A
AS-Interface connection over Type 6150 module
Information
Support
Certificates
Only up-to-date documents are shown in the product selector. Check the documentation site for a list of all documents available.
Show all documents for Type 6111
Pin product
Pin items on your list and contact us if you have any product-related questions.