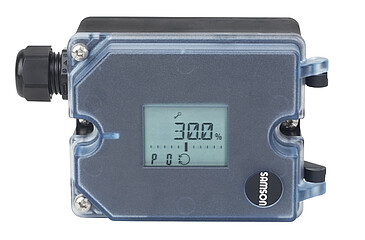 3725
Electropneumatic positioner

PRODUCT
Positioner
USAGE

ATTACHMENT TO

Linear actuator, single acting
Linear actuator, double acting
Rotary actuator, single acting
Rotary actuator, double acting
EXPLOSION PROTECTION

Without certification
Type of protection "Intrinsic safety"
COMMUNICATION

CONTROL LOOP

OPTIONAL SOLENOID VALVE

VALVE DIAGNOSTICS

Special features
Electropneumatic positioner
Housing of polyphthalamide
Attachment to linear actuators according to IEC 60534-6 or SAMSON integral attachment
Attachment to rotary actuators according to VDI/VDE 3845

Attachment to double-acting actuators with Type 3710 Reversing Amplifier

Easy operation with intuitive navigation menu using three capacitive keys
Easy-to-read display in any mounting position thanks to rotatable reading direction
Variable automatic start-up
Preset parameters
All parameters saved in non-volatile EEPROM
Tight-closing function can be activated
Automatic zero monitoring
Non-contact position sensing
Unaffected by environmental effects and steam hammering
Information
Support
Certificates
Only up-to-date documents are shown in the product selector. Check the documentation site for a list of all documents available.
Show all documents for Type 3725
Pin product
Pin items on your list and contact us if you have any product-related questions.