Oxygen Cleaning Facilities
The SAMSON USA facility, located in Baytown, Texas, offers in-house high purity cleaning services for materials and components used in applications such as oxygen, chlorine, industrial gases, or acids. Our automated cleaning system and state-of-the-art clean room allows for quick and consistent results that abide by ASTM G93 and ISO 8 cleanliness standards or company standards.
Please contact us at contact-us(at)samsongroup.remove-this.com to request a quote.
Facts and Key Features
Automated Cleaning System Capacity:

440 lbs (200 kg),
27.5" x 27.5" x 16" (700 x 700 x 400 mm)

1600 ft2 ISO 8 Clean room.
Effective automated cleaning results meet ASTM G93 cleanliness level B.
Clean room certified to meet and exceed ISO 14644-1 Class 8 requirements.
White light visual inspection capable.
Ultraviolet light inspection capable.
Testing stands free of oil, grease, and is capable of test pressures of 580 psi (40 bar ) with clean air.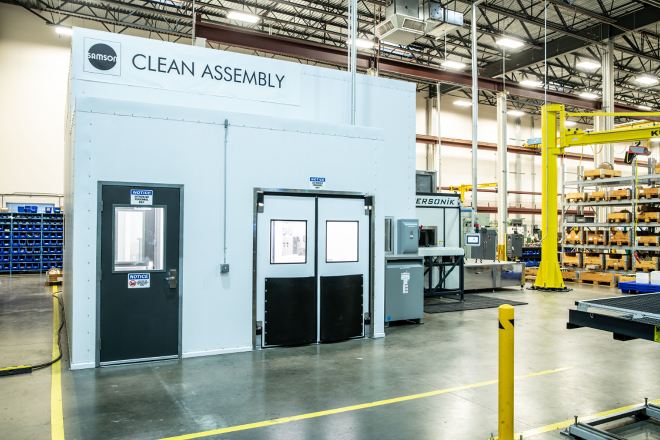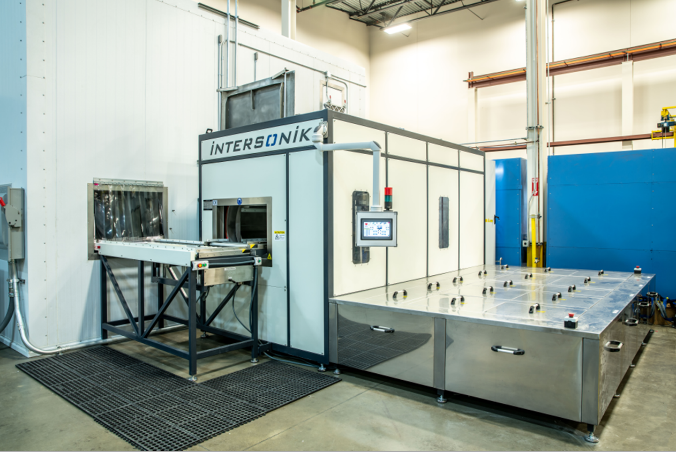 As vital as oxygen may be for human beings and nature, this is a dangerous element in its pure state in the presence of inflammable fluids and substances. Special attention must be given to any impurities in all components for O2 applications in order to prevent these accidents.
The cleaning of metal components for O2 service is done by rinsing them three times in trichloroethylene or perchloroethylene. The parts are immersed in a trichloroethylene or perchloroethylene bath to remove coarse dirt. Sprayed down with trichloroethylene or perchloroethylene to remove any dirt particles stuck to parts. Then final cleaning of parts is done with vapor trichloroethylene or perchloroethylene vapor. Finally, the parts are heated up to evaporate the cleaning agents and checked to that the parts are free of all cleaning agents. The parts are then packed in polythene bags straightway, placed in a sealable transport box and taken to the clean room if final assembly is required.
Chlorine lists among industry's most important chemicals and is the basic material for more than half of all products in the chemical industry. Chlorine gas is especially dangerous since it burns mucous membranes and respiration organs and is fatal in a concentration of only 0.05% after an exposure of 2 hours duration. Components intended for use with chlorine or chlorine derivatives must be degreased and cleaned of oils then delivered to the customer in an absolutely dry condition.
Industrial gases such as Hydrogen, Argon, Helium or Nitrogen may not pose similar risks as that of Oxygen services but still require similar cleanliness levels. The components must be free of rough contaminants and impurities. For components in industrial gas applications the cleaning process is the same as oxygen applications.
Purity Level 1 (High Purity)
This version is suitable for industries such as the semi-conductor industry. Components must be completely free of impurities such as casting residues or lubricants.
Purity Level 2 (Pure)
This version is recommended for use in industries such as the energy sector of pharmaceutical industry. Components must be free from impurities and cleaned by an electroplating process.
Purity Level 3 (Pure)
This version is suitable for general use with extended requirements concerning purity, for example, in process engineering.